TED'S 10 RULES OF MANAGEMENT: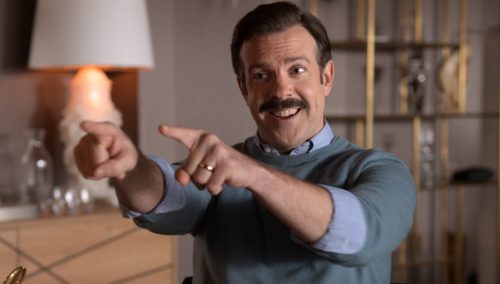 A big hit with the Directorbank team, Ted Lasso – the lead character in this witty Apple TV series – is an American football coach hired to coach an English Premier League football team.

Here is a precis of Ted's 10 rules of management.
1.
"Taking on a challenge is a lot like riding a horse. If you're comfortable while you're doing it, you're probably doing it all wrong."
Leadership is full of challenges, whether taking risks, adapting to change or handling confrontation. Ted, like all good leaders, pushes his boundaries and accepts discomfort as part of the growth journey.
2.
"Gotta have a 10 second memory. Be a goldfish!"
Dwelling on mistakes is unproductive and destructive. As Ted says, we should accept our mistakes, learn from them and move on … quickly.
3.
"Every disadvantage has its advantage."
He knows little about the football, or England for that matter. Yet he successfully draws on his wealth of situational understanding to drive innovative thinking, team rapport and performance.
4.
"There's two buttons I never like to use. That's panic and snooze."
Believing panic to be counter-productive, Ted often takes a breath, steps back, and resets his mind before carrying on. You'll never see him snoozing either. He's passionate, alert and energetic in his quest to drive the club to greater heights.
5.
"I think that you might be so sure that you're one in a million, that sometimes you forget that out there you're just one in 11."
Ted reminds his arrogant 'star' player of the importance of team cohesion. The whole is greater than the sum of its parts.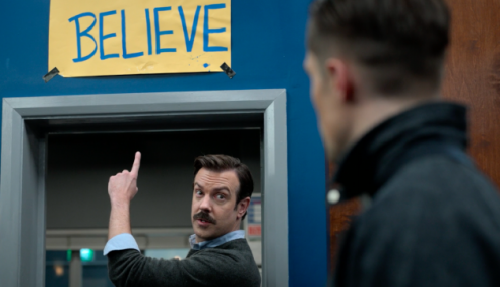 6.
"Believe"
A great advocate of the power of positive thinking, Ted boldly displays 'BELIEVE' above his office door. He refers to it regularly to focus his players – to instil a sense of hope, to dampen negativity, and to motivate them to perform their best.
7.
"Be curious, not judgmental."
Ted cites this Walt Whitman quote during a darts contest. People often rush to judge. They forget to question or see the bigger picture which stifles growth and effective decision-making. Assumption is the mother of all mistakes.
8.
"I suppose the best brand is being yourself."
Ted is real, honest and accountable. He knows his weaknesses and vulnerabilities, and isn't afraid to ask for help. As such, he creates a deeper connection with his players and inspires trust, loyalty, and respect.
9.
"But hey, I shouldn't bring an umbrella to a brainstorm."
Ted is all for the power of collective thinking and the value that different perspectives can bring. He is also comfortable and confident enough in his role to stand by his decisions when necessary.
10.
"As the man once said, the harder you work the luckier you get."
Crediting the American founding father, Thomas Jefferson, Ted is a firm believer that good ideas and outcomes stem from hard graft, focus and discipline.
Images: Apple TV+