Directorbank team climbs Ben Nevis –
On Thursday 20th June, 8:15am, Wave 1 of the Directorbank team set out to climb Ben Nevis, Britain's highest mountain, via the Carn Mor Dearg Arête, to raise funds for Macmillan Cancer Support.
Visit our Just Giving page.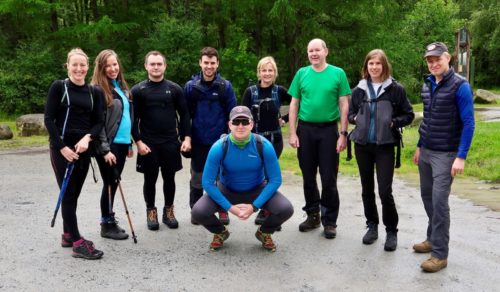 We started our adventure from a car park near Torlundy with bags of energy, enthusiasm … and a little apprehension. The North Face Trail gently guided us uphill through thick forest, our rucksacks bearing down on our shoulders stuffed to the brim with water, spare layers, waterproofs, blister packs and a plethora of sugary snacks.
Within the first hour, the unpredictable Scottish weather proved true to form as mist turned to drizzle and then to heavy rain. We downed our bags in search of waterproof gear. As we emerged into open moorland, the incredible cliffs, buttresses and gullies of majestic Ben Nevis lay ahead. We were full of admiration and determination.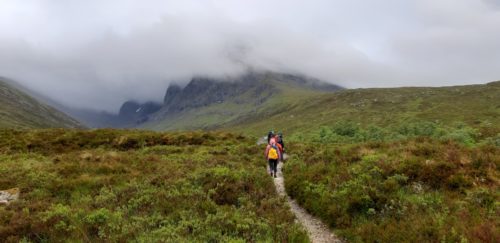 Some of us quickly realised our kit wasn't up to the required standard. With hours of walking ahead of us, Graham came to the rescue with spares. Lewis's navy jacket was replaced with a heavy duty dayglow-orange number and a makeshift waterproof cape to protect his bag from a further soaking. There was no chance of losing him on the mountain!
Exposed to the elements, a biting wind picked up and rain turned to needles of icy sleet. We pushed on, fingers and toes numb to the cold, across the heather and boulder strewn landscape. As we climbed upwards on the long ascent to Carn Mor Dearg we were rewarded with stunning views back to Caol, Corpach and Lochs Linnhe and Eil. A humbling sight!
As the North Face of Ben Nevis drew closer, strangely we stumbled across a large group of Royal Marines and US Marines on a training mission, completely camouflaged against the rocky slopes. Travelling from the hotter climes of Colorado or Virginia, some looked thoroughly beaten by the less favourable elements. We followed them upwards into the corrie, precariously traversing the fast flowing Allt a Mhuilinn stream with the aid of our walking poles, its icy water filling our boots.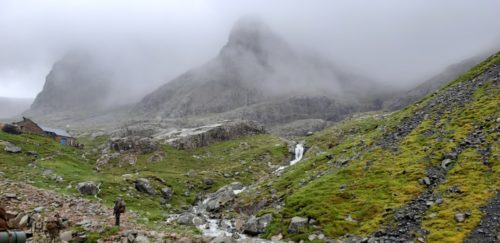 The CIC Hut (Britain's highest mountain hut) provided some much needed respite. Locked from public use, we took shelter behind its thick stone walls, huddled alongside the Military. Shivering we added more layers, sipped hot tea and took on more calories than probably necessary. Graham came to the rescue again in the form of a Montane down jacket, it's 'lightweight without compromise' tag living up to expectations.
According to Tim's map reading we'd reached 680m and the North Face of Ben Nevis loomed over us rising some 700m to the summit, its sheer bulk grey and sinister against the dark cloud. The icy winds picked up and, wary of the probable 40mph gusts along the Carn Mor Dearg Arête, Graham made the decision to change tack and attempt Ben Nevis from a different approach. Alas, the challenge of the arête route wasn't to be!
Tim did a stellar job of navigating us around the buttress of Carn Dearg to join the Mountain Path next to Lochan Meall an t-Suidhe. As our heart rates picked up and our body temperatures increased, we were rewarded with grand views up Glen Nevis. Our enthusiasm returned and there was laughter to be heard.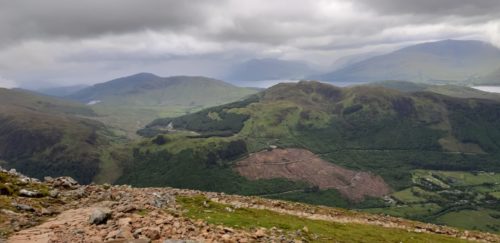 With Wave 2 of the Directorbank team slightly ahead of us, having taking the Mountain Path from Achintee on the east side of Glen Nevis, we ascended the remaining 700m up the stony west flank of Ben Nevis in a series of relentless zig zags.  It was straightforward, but strenuous going and we started to spread out as the incline took its toll. As we climbed, we passed a number of the Wave 2 group – led by Simon – on their descent. They looked cold to the core, but happy with their achievement.
Finally, after 20km of continuous uphill trekking, the Wave 1 group reached the summit of Ben Nevis at 3:45 pm with a huge sense of satisfaction and relief. With its rock strewn landscape, cloaked in icy mist, and a thick coating of snow along the top of the vertigo-inducing Tower Gully, this was no place to hang around. We embraced members of the Wave 2 group, took the obligatory team photos at the Trig Point, high fived, and began our descent together in the driving sleet, our Gore-Tex jackets and many base layers offering little protection from the glacial conditions. One could spend a small fortune for such microdermabrasion facial treatment!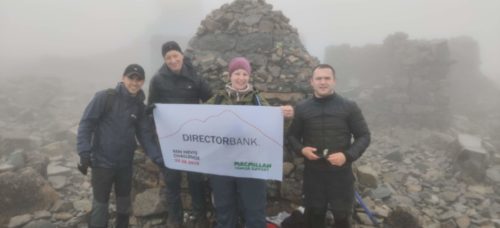 The rocky path down was slow going and an absolute killer for the knees, but as the mist dissipated we were rewarded with breath-taking views. Lush green valleys, carpets of dense woodland and sparkling Lochs shadowed by the Highland's majestic peaks and crags. A picture perfect Alpine scene.
Underfoot the terrain was slippery and the tally of falls and stumbles quickly rose. Serious concentration was required. Soon the Ben Nevis Inn was in sight, a welcome beacon of light and our finish line. Completely knackered, we flopped into comfy leather chairs and celebrated with a much deserved pint (or two) of Cairngorm Ale.
Distance covered – 29km
Elevation gain – 1,480m
Trekking time – 9.5 hours
Number of stumbles – 21
Broken bones or other injuries – 0
Cases of failed kit – Many
Team members sharing Graham's spare kit – 7
For all of us, our Ben Nevis adventure has been a great success. Challenging and particularly hard going at times, but hugely rewarding and a lot of fun. And a great chance to catch up with Directorbank colleagues from across the UK and Germany. For some of us, an entry on the bucket list has been ticked off, never to be repeated. For others, a reattempt of the Carn Mor Dearg Arête is planned for the near future … once the aches and pains have subsided … and the odd case of frostnip!
And the best news of all is we've successfully raised more than £2,500 (and climbing!) for Macmillan Cancer Support.  Our sincere thanks go to those who have sponsored us so far.
If you'd like to contribute to the fund pot, please visit our Just Giving page